Super Bowl XXXIII John Elway - Sports Portrait Painting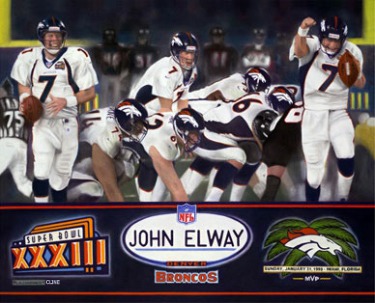 45" X 52"
Framed Pastel Painting
This original pastel painting features the Great John Elway in a collage of three action sequences celebrating his last touchdown that clinched the Championship during Super Bowl XXXIII on January 31, 1999.
Having the opportunity to actually be at Super Bowl XXXIII was incredible. I was on the twenty yard line on the Denver side when John Elway scored his last Touch Down right there in front of me.
The combinations of scenes melt into one another with the goal posts on either side as the ultimate accent. The action and excitement of moment was an extraordinary piece to create.
This painting is a part of the Artist's Collection.
Click Here to purchase works from the Sports Collection.